Patriotic Quilt Along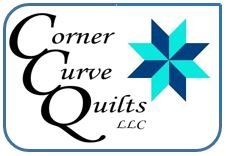 Hello Quilting Friends,
Just released is a new patriotic wall hanging pattern called Scrappy Stars. The wall hanging goes together quickly with raw edge applique that is sewn down with the quilting. Check it out by shopping
here.
Please make sure to add this email to your address book, so that newsletters don't go to the spam folder. Receiving newsletters, will keep you up to date new patterns, fabrics and activities.
Looking for another quilt along? Corner Curve Quilts will be starting a new quilt along on May 8, 2021. The free directions will come out every Thursday at 7:00 a.m. Eastern, for four weeks in the newsletter. The directions will also be posted on the blog page of the website. This patriotic quilt will be done in time for the 4th of July. It will look great whether you use all the same fabrics or make it scrappy. The photo below shows it with the same colors. The yardage needed for the quilt top is 2 yards of blue, 2 1/4 yards of red, 2 3/4 yards of white and 1 1/2 yellow. The finished quilt will be 60" x 80". Corner Curve Quilts has several red, white, blue and yellow fabrics for sale. So it is time to restock the stash you have been using up, by ordering
a fat quarter or two to celebrate the start of Pin Wheels in the Stars project.


L
et's go sew.
Michelle
Corner Curve Quilts