Skip Navigation
Website Accessibility
Some New Fabric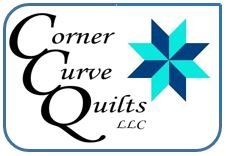 Hello Quilting Friends,
There has been a lot going on at Corner Curve Quilts. More fabric has arrived as well as some more rulers. Another quilt along is being planned and a couple more patterns are being tested. The Scrappy Stars wall hanging pattern is now available. This fun red, white and blue wall hanging will use up a few scraps of fabric and it goes together quickly.
The Cy Star Mystery Quilt Along is wrapping up with the clues being up until April 30, 2021. Then a pattern will be available for purchase.
Another quilt along is being planned to start in the middle of May. It will be a patriotic quilt with directions coming out each week for 4 weeks. A photo and yardage will be sent out next week. So start gathering the red, white, blue and gold/yellow fabrics.
In the meantime, take a look at some of the new fabrics that just arrived like the white on white flip flops and summertime cherries, the photos are shown with color so you can see the details.
Click
here
to shop.