Mystery Quilt Along Clue Six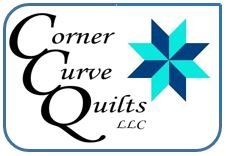 Hello Quilting Friends,
We have made it to the end of the Cy Star Mystery Quilt Along. This journey has had us sewing peaks & points as well as some curves. Don't forget the square in a square unit with just two of the colors. Did you use the Cat's Cradle ruler or the Two Peaks in One ruler? I hope you have learned a new skill or two along the way. Click here for a printer friendly PDF.

When you finish your quilt with a binding and label send me a photo. The photo should be of the front with the corner turned back so I can see the label (at least part of it- you can cover up the personal information. Or send a separate photo of the back) With your permission, I would like to put photos of the front of completed quilts on my Facebook page and on my website. Email photos to cornercuvequilts@gmail.com by May 1, 2021 and I will send you a coupon for a discount on fabric.
If there was another mystery quilt along would you participate? Would you be interested in a block of the month or block of the week quilt along? The next event will be a patriotic quilt along starting in May, watch the newsletters for details. Click here to shop for some new fabrics. Just a reminder, today is the last day to use coupon code MJ4MA for free shipping on orders over $50. This coupon will be good on new purchases made today, March 18, 2021.
If you ran into a road block with the Drunkard's Path, then take a look at the alternate design I have created so you can finish the quilt and not end up with another UFQ. See the printer friendly PDF here.
Quilting Quote: Behind every quilter is a big pile of fabric.
As Always,
Michelle
Corner Curve Quilts LLC
cornercurvequilts@gmail.com